The Sharpest Kiss Collection
Time to read this page ~ 2 minutes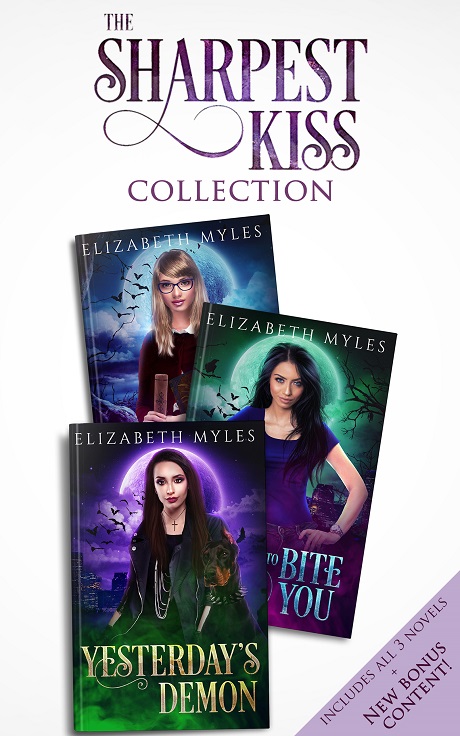 The Sharpest Kiss Collection
Contains the complete paranormal romantic comedy series, The Sharpest Kiss—all three full-length novels—plus over 200 pages of all-new bonus content!
Her handsome boss has just been turned into a vampire!
Twenty-four-year-old Lucy Booth is a mild-mannered executive assistant with a major crush on her boss, Aaron Ames. When the nerdy but adorable middle-manager finally asks her out for pizza, she's thrilled. And when he turns up at the office the next day looking clammy and complaining of being sick, she assumes he either has the flu, or he's been out partying too hard the night before. But then she notices his newly acquired aversion to sunlight and the two puncture wounds on his neck…and he tells her he's been bitten by a vampire.
Not just bitten but turned.
Lucy knows she can't just abandon the man she loves to immortality as a bloodsucking nosferatu. She has to turn him back! The only question now is how…
Why did all the good ones have to be undead? And staunchly opposed to dating the living?
Seven weeks ago, Jessica Ramos was just a humble bookseller peddling paranormal romance novels in the Houston suburbs. She had no idea vampires actually existed. Now she's met and fallen in love with one. His name is Nathan and he's perfect for her. Too bad he's also got hang-ups about getting romantically involved with a mortal. He's declared he won't date Jessica unless and until he's back to being human again.
No sweat. Jessica's convinced that she, her stake-toting best friend Lucy, and the rest of their new gang of supernatural-savvy friends can find a way to free Nathan from his vampiric curse. All they need is a solid plan—and the guts to go up against the vicious master nosferatu who turned Nathan in the first place…
Can yesterday's demon be the hero of today?
Marta has a talking dog, a magic rock, a supernatural mystery to solve, and a hot friend determined to make her his. Can an ex-vampire girl find love and redemption after more than nine centuries of iniquity…or will her dark secret doom everything she's ever longed for?
***Also includes an all-new, never-before-published BONUS NOVELLA, A Thing Like Death, a bonus "meta excerpt" from A Prince at Midnight by R.Q. Vander Gries, fun recipes, and more!***
Reader advisory: The Sharpest Kiss series includes mild cursing, vampire-related violence, and some sexual content.
Info
Year: 2021 (contains material originally published 2019-2020)
Language: English
Pages: 1,029
Publisher: Eight Oh Six/Tangential Publishing
Categories: Fiction / Romance / New Adult / Paranormal