All My Halloweens
Time to read this page ~ 1 minute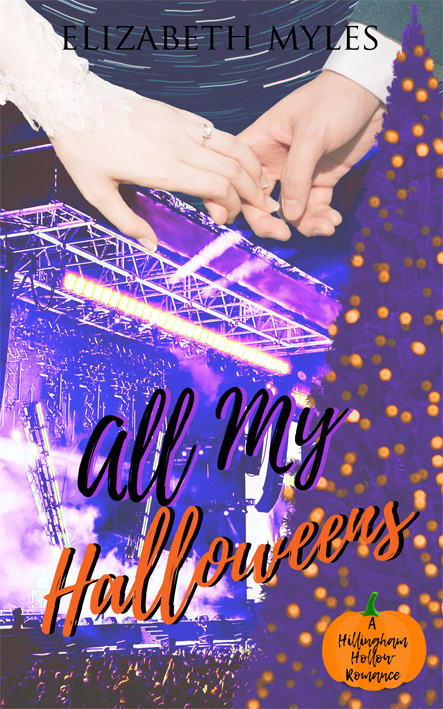 All My Halloweens
This Halloween, lose your heart in Hillingham Hollow…
Welcome to Hillingham Hollow, the wholesome Texas suburb where romance abounds and real magic is rumored to be in the air…
A Pumpkin Princess for the Vampire King. She's the 20-year-old hometown sweetheart of tiny Hillingham Hollow, Texas. He's a 28-year-old Gothic rock singer rumored to be part vampire. Their upcoming wedding has entranced the Hillingham Hollow locals, but how did they meet, and what happened to make them fall desperately in love? Find out in this sweet and humorous paranormal holiday romance.
Book 5: All My Halloweens
Twenty-year-old Autumn Joy Alejandro is getting married.
Somehow, the former Hillingham Hollow High homecoming queen and recent Harvest Festival Pumpkin Princess has managed to land one of the world's most eligible bachelors, twenty-eight-year-old Gothic rock singer Corvin Covarrubias. When the tall, dark, and extraordinarily handsome star escorts his new bride-to-be back to the suburbs for their highly publicized wedding, all of Hillingham Hollow is immediately entranced.
Autumn Joy is sweet and friendly, known for her almost angelic levels of kindness and generosity. Corvin is just the opposite, a worldly international celebrity with a dour image and devilish reputation, rumored to be a real-life vampire. The unusual pair captures the locals' imaginations, and soon speculations about their alliance are swirling.
According to many hopeful Hillingham singles, the "marriage of light and darkness" taking place in the heart of their community will be a charmed event, guaranteeing every guest their own happily-ever-after.
But how did this special event come to be in the first place? What happened when Autumn Joy and Corvin met, and how did they fall so desperately in love? Read their story in All My Halloweens.
Content advisory for Book 5: All My Halloweens: sexual references, sensual kissing
Info
Year: 2022
Language: English
Pages: 354
Publisher: Eight Oh Six/Tangential Publishing
Categories: Fiction / Romance / New Adult / Contemporary / Paranormal